Ken McNaught is now positioned "Ecke Singerstraße Neue Blumenstraße", that is on the corner of Singerstraße and Neue Blumenstraße in what used to be East Berlin. He asks a passer-by wher he can find the post-office and the underground station.
Both of these are shown on the map below - the post-office has the yellow logo of the German post office Deutsche Post with its trademark horn, and the "U-Bahnhof" (= "underground station") is indicated by the blue letter "U".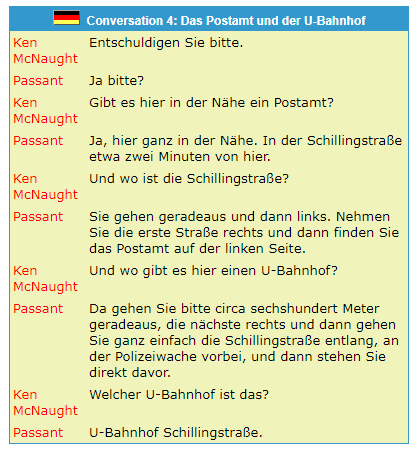 Glossary
hier in der Nähe---near here
hier ganz in der Nähe---very near here
das Postamt---"Post office". You will often hear the word "die Post" used for this, which also means the post office as an institution.
etwa---approximately
zwei Minuten von hier---two minutes from here
Wo gibt es hier einen U-Bahnhof?---"wher is an underground station round here?" As "es gibt" takes the accusative case, the masculine noun "ein U-Bahnhof" becomes "einen U-Bahnhof".
circa
approximately; about
sechshundert Meter---six hundred metres
ganz einfach---quite simply
die Schillingstraße entlang---"Along the Schillingstraße". The preposition "entlang" follows the noun to which it refers.
die Polizeiwache---"Police station". It is indicated on German maps by a green star on a white circular background.
an der Polizeiwache vorbei---past the police station
direkt davor
directly in front of it
Welcher U-Bahnhof ist das?---"Which underground station is that?" If the noun following "which" was a feminine noun, it would be "welche" and if it was a neuter noun, it would be "welches".